Vinery
Vinery Overview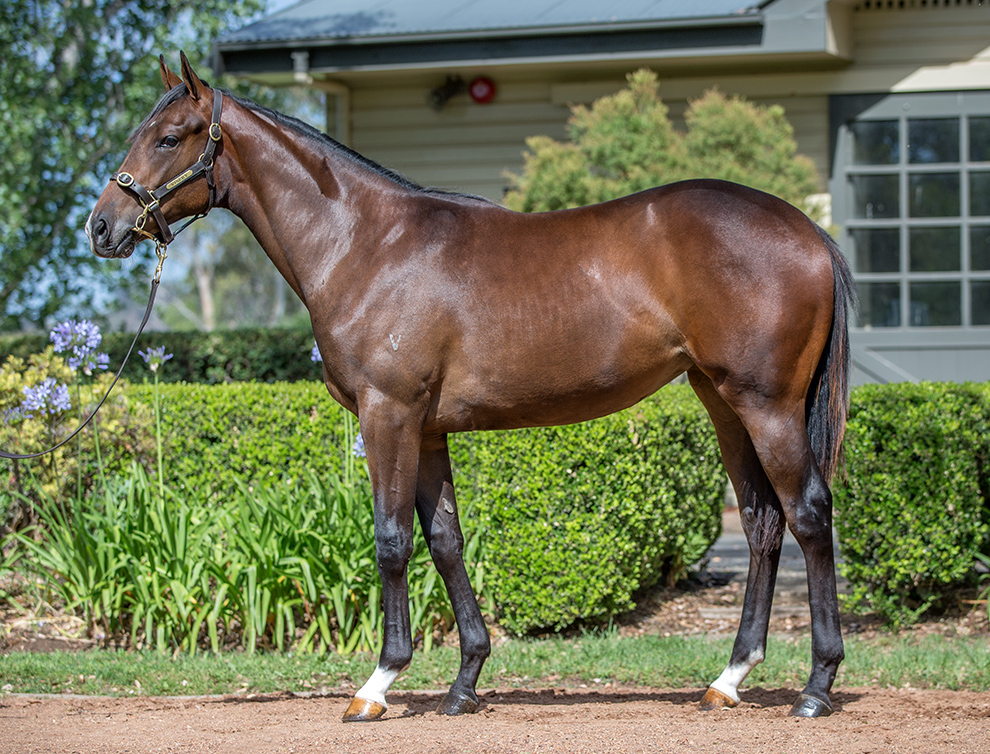 Press Statement's half-sister to dual Gr3 winner Winter Bride
Vinery is excited to be taking its first yearlings by Headwater and Press Statement to the Magic Millions as are other studs like Riversdale, Cressfield, Lime Country, Sledmere and Kitchwin Hills.
"Both stallions have been very popular with breeders," Vinery's Bloodstock Manager Adam White said. "Headwater covered 168 mares in his first book and ticks all the boxes. He has a speed-on-speed pedigree and was precocious pre-Christmas 2YO." Headwater was bred to fly as a son of champion sire Exceed And Excel and Oakleigh Plate Gr.1 winner River Dove. He won the Silver Slipper Stakes Gr.2 before returning at three to defeat older horses in the Kensington Stakes LR down the straight at Flemington.
Vinery's Headwater colt from Legislature (Lot 739) looks an early-comer. His dam is a sister to More Than Ready filly Carry On Cutie who won a Champagne Stakes Gr.1 at Randwick.
Cressfield Stud owner Bruce Neill bred Headwater and sold him to Vinery for $500,000 as a yearling. Neill has continued to support him at stud and the filly from Flemington Gr3 winner Galapagos Girl has been catalogued as Lot 609 at the Magic Millions.
Press Statement's first yearlings look like pure athletes and will quickly develop into readymade racehorses. He was the only colt of his generation to win at Group 1 level as a 2YO and 3YO and his sire Hinchinbrook was Australia's Champion first-season Sire in 2014-15.
The Vinery filly from Randwick Group 2 winner Amberino (Lot 347) has impressed White during her preparation for the Magic Millions. "She will be one of the highlights," White predicted. "She's a half-sister to Winter Bride who won Gr3 races at Caulfield during the spring carnival."
Kitchwin Hills has entered a Press Statement filly (Lot 487) and Headwater colts (Lots 708 and 994) for the Magic Millions. The Press Statement is a half-sister to In Heart's Wake who updated the pedigree with a Morphettville win for Tony McEvoy in September.
| Lot | Col | Sex | Sire | Dam | Vendor |
| --- | --- | --- | --- | --- | --- |
| 21 | B | C | More Than Ready (USA) | Power Lady (USA) | Vinery Stud Scone NSW |
| 83 | B | C | More Than Ready (USA) | Runway Star (AUS) | Vinery Stud Scone NSW |
| 146 | Br | C | All Too Hard (AUS) | Snitzerland (AUS) | Vinery Stud Scone NSW |
| 180 | B | C | Exceed and Excel (AUS) | Stella Senza Cielo (IRE) | Vinery Stud Scone NSW |
| 206 | B | C | Not a Single Doubt (AUS) | Tallow (AUS) | Vinery Stud Scone NSW |
| 207 | C | C | Sebring (AUS) | Tartufi (USA) | Vinery Stud Scone NSW |
| 340 | B | C | More Than Ready (USA) | Allez Wonder (AUS) | Vinery Stud Scone NSW |
| 347 | B | F | Press Statement (AUS) | Amberino (AUS) | Vinery Stud Scone NSW |
| 398 | B | C | All Too Hard (AUS) | Bellini Rose (NZ) | Vinery Stud Scone NSW |
| 403 | G | F | Tapit (USA) | Best Behavior (CAN) | Vinery Stud Scone NSW |
| 516 | B | F | All Too Hard (AUS) | Devil Moon (AUS) | Vinery Stud Scone NSW |
| 522 | C | C | Sebring (AUS) | Dirty (AUS) | Vinery Stud Scone NSW |
| 523 | C | C | More Than Ready (USA) | Disseminate (AUS) | Vinery Stud Scone NSW |
| 526 | G | F | Tapit (USA) | Dixie Smile (USA) | Vinery Stud Scone NSW |
| 579 | B | F | All Too Hard (AUS) | Fit and Ready (AUS) | Vinery Stud Scone NSW |
| 614 | B | F | Press Statement (AUS) | Giovanna Bella (NZ) | Vinery Stud Scone NSW |
| 732 | B | F | Not a Single Doubt (AUS) | Lady Oracle (GB) | Vinery Stud Scone NSW |
| 737 | C | F | More Than Ready (USA) | Lasoron (AUS) | Vinery Stud Scone NSW |
| 739 | B | C | Headwater (AUS) | Legislature (AUS) | Vinery Stud Scone NSW |
| 748 | B | F | I Am Invincible (AUS) | Live and Dream (AUS) | Vinery Stud Scone NSW |
| 787 | B | C | Press Statement (AUS) | Max it Out (AUS) | Vinery Stud Scone NSW |
| 809 | B | F | Snitzel (AUS) | Miss Charming (USA) | Vinery Stud Scone NSW |
| 849 | B | C | Written Tycoon (AUS) | Nakaaya (AUS) | Vinery Stud Scone NSW |