Edinburgh Park
Edinburgh Park Overview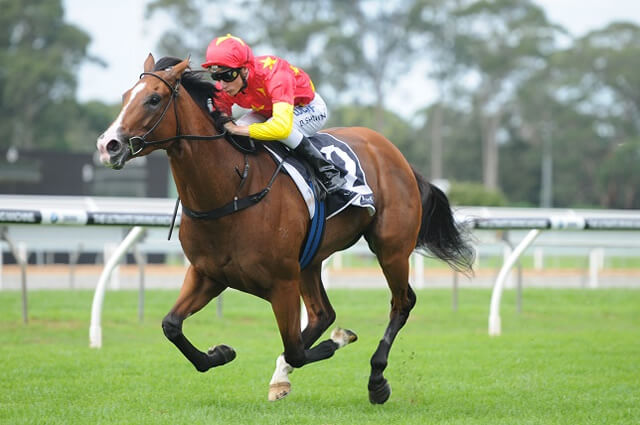 Lot 390 is related to Gr1-winning mare First Seal (pic: Steve Hart)
A good measure of any school is its alumni, the graduates who are talked about after they've left, those that make a mark on society and act as motivators for current and future students at that school. Let's just say that by any measure Edinburgh Park is an elite co-ed school.
The honour roll includes names like Amovatio, Sister Madly, Bull Point, Cute Emily, Better Than Ready (now creating an early buzz as a sire), Tahni Dancer, A Country Girl, Rocketeer, Revolving Door, Golden Spin, Miss Wonderland and Permissive. Add Tamasa to this list heading into 2019, as well as probably a number of others.
So it's with a strong degree of confidence that you can approach Edinburgh Park's draft of 2019 at the Gold Coast; 8 fillies and 8 colts. A nice mix of potent, established sire power and burgeoning sire promise.
The 2 colts by Snitzel are probably an obvious place to start. Lot 336 is from Alice's Smart and he's the full-brother to the classy, stakes-placed Miss Wonderland. It's a strong US family built around Gr2 winner Darling Alice and which has branched out in Australia to produce names like Criterion and Comin' Through, both Gr1 winners. Meanwhile, Lot 597, the second by Snitzel is from General Nediym mare Fortune of War, a half-sister to multiple black type winer Serious, on-speed stakes gladiator Dollar For Dollar and Gr3-winning sprinter Clifton Red. This colt surely must be a strong chance to be back in 12 months time to contest the 2YO Millions.
On the theme of established sire power, Lots 143 and 867 are in highlights. Both are by twice Champion Australian Sire Fastnet Rock. Lot 143 is from the same family as Lot 336, this time from young Smoke Glacken mare Smoking' Alice. Lot 867 is from another US mare in Nothin But A Dream, also a daughter of Darling Alice with one to race for a winner.
Top-end Australiasian 2YO sire Written Tycoon is also represented. Lot 812 is from Choisir mare Miss Independent, a sister to the speedy stakes-placed pair Kudero and Malambo. This is an athletic family including dual Gr1 winner Tempest Morn and her group winning pair Good Standing and Tempt Me Not. High class 2YO's Pasikatera (Gr3 Breeders Classic winner) and Attention Gr2 BRC Sires' Produce winner) are also on the page.
The gorgeous Lonhro filly (Lot 390) will have many admirers. She's from Becerra, a Listed winner and runner-up in the Gr1 Queensland Oaks. Her first runner has also won twice. Second dam Possessed is also a sister to Australasian Oaks winner Episode while her daughter First Seal was clearly one of the best of her age in the country in recent times when winning the Gr1 Surround Stakes and being dubbed Champion Female Sprinter in Australia.
Lot 246 is another filly with a beautiful pedigree and iron clad residual. She's by Vancouver's and Assign's sire Medaglia D'Oro from stakes-placed mare Turnstiles, herself the dam of Revolving Door and Golden Spin (by Medaglia). And the second dam is by Zabeel, which says it all.
The second lot from the Edinburgh Park draft is 102. He's by Leading Australian First Season Sire Pierro, sire of WA wonder mare Arcadia Queen, and is the first foal of Exceed and Excel mare Seagrove. The double sex balanced cross of Zabeel top and bottom is hugely enticing and the family just happens to boast Champion Hill of Grace and full relation Renewable.
There's two by Star Witness in relatively quick succession. Star Witness continues to produce quality runners. Star Sydney galloper Graff is his most recent example. They're traditionally athletic and most importantly resilient. Lot 562 is a colt from a speedy Charge Forward mare in Face Forward, a half-sister to stakes placed Qld mare Privlaka. It's her first foal and much is expected. Lot 585, meanwhile, is a filly from Flying Spur mare Flying Shingle, a half-sister to sire Not A Single Doubt. It's a 2YO production line on this page ... Snippets, Quick Score, Asawir, True Blonde, Hanky Panky, Come Hither, Cohesion, Zizou and Oohood.
In terms of young sires there's also a strong mix of talent. The first Lot in the draft is 43, by Northern Meteor's son Deep Field from Testa Rossa mare Quicksilver Lass. She just happens to be a half-sister to Cox Plate runner D'Argento. Sire Sizzling and precocious juveniles Loving Cup and Laudemio also leap from the page.
Lot 435 is by Pride of Dubai (eldest yearlings), the Gr1 Blue Doamond-winning son of Street Cry. This colt is from stakes winning Tale of the Cat mare Calcatta, and the 2nd dam is also a stakes winner from 1000m to 1400m.
Super One is an interesting stallion whose oldest are also yearlings. A Champion 2YO in Singapore by I Am Invincible, the writing is on the wall for success. Maybe this is the year to strike before he gets too hot. Lot 353 is the filly from Angora, a stakes-placed producer of 7 individual winners, including WA Listed winner Canali and AJC stakes placed Vilayet; Lot 740 is from Irish mare Lekhani, a half-sister to sire Myboycharlie, from the immediate family of Gr1 Galaxy winner Snowland and Gr2 Surround winner Portillo (dam of Surround winner Ghisoni).
Rounding out the Edinburgh Park draft are 2 offerings by buzz stallion (and son of super-sire Medaglia D'Oro) Vancouver. With his eldest also only yearlings, one feels an avalanche of 2YO success is not far away. Lot 181 is from the half-sister to Listed Dulcify winner Mulqueen. It's her first foal. This is the family of Criterion, previewed earlier. Meanwhile, Lot 439 is from Candela, a half-sister to the stakes placed pair Time After Time and Coming Back. This is, simply put, a classy family, including Gr1 winner Lady Madonna.
| Lot | Col | Sex | Sire | Dam | Vendor |
| --- | --- | --- | --- | --- | --- |
| 43 | G | F | Deep Field (AUS) | Quicksilver Lass (AUS) | Edinburgh Park Wingham NSW |
| 102 | B | C | Pierro (AUS) | Seagrove (AUS) | Edinburgh Park Wingham NSW |
| 143 | B | C | Fastnet Rock (AUS) | Smokin' Alice (USA) | Edinburgh Park Wingham NSW |
| 181 | Br | F | Vancouver (AUS) | Sticky Fingers (AUS) | Edinburgh Park Wingham NSW |
| 246 | B | F | Medaglia d'Oro (USA) | Turnstiles (NZ) | Edinburgh Park Wingham NSW |
| 336 | C | C | Snitzel (AUS) | Alice's Smart (USA) | Edinburgh Park Wingham NSW |
| 353 | Br | F | Super One (AUS) | Angora (AUS) | Edinburgh Park Wingham NSW |
| 390 | Br | F | Lonhro (AUS) | Becerra (AUS) | Edinburgh Park Wingham NSW |
| 435 | Br | C | Pride of Dubai (AUS) | Calcatta (AUS) | Edinburgh Park Wingham NSW |
| 439 | Br | C | Vancouver (AUS) | Candela (AUS) | Edinburgh Park Wingham NSW |
| 562 | B | C | Star Witness (AUS) | Face Forward (AUS) | Edinburgh Park Wingham NSW |
| 585 | C | F | Star Witness (AUS) | Flying Single (AUS) | Edinburgh Park Wingham NSW |
| 597 | B | C | Snitzel (AUS) | Fortune of War (AUS) | Edinburgh Park Wingham NSW |
| 740 | B | F | Super One (AUS) | Lekhani (IRE) | Edinburgh Park Wingham NSW |
| 812 | C | F | Written Tycoon (AUS) | Miss Independent (AUS) | Edinburgh Park Wingham NSW |
| 867 | B | C | Fastnet Rock (AUS) | Nothin But a Dream (USA) | Edinburgh Park Wingham NSW |