Cressfield
Cressfield Overview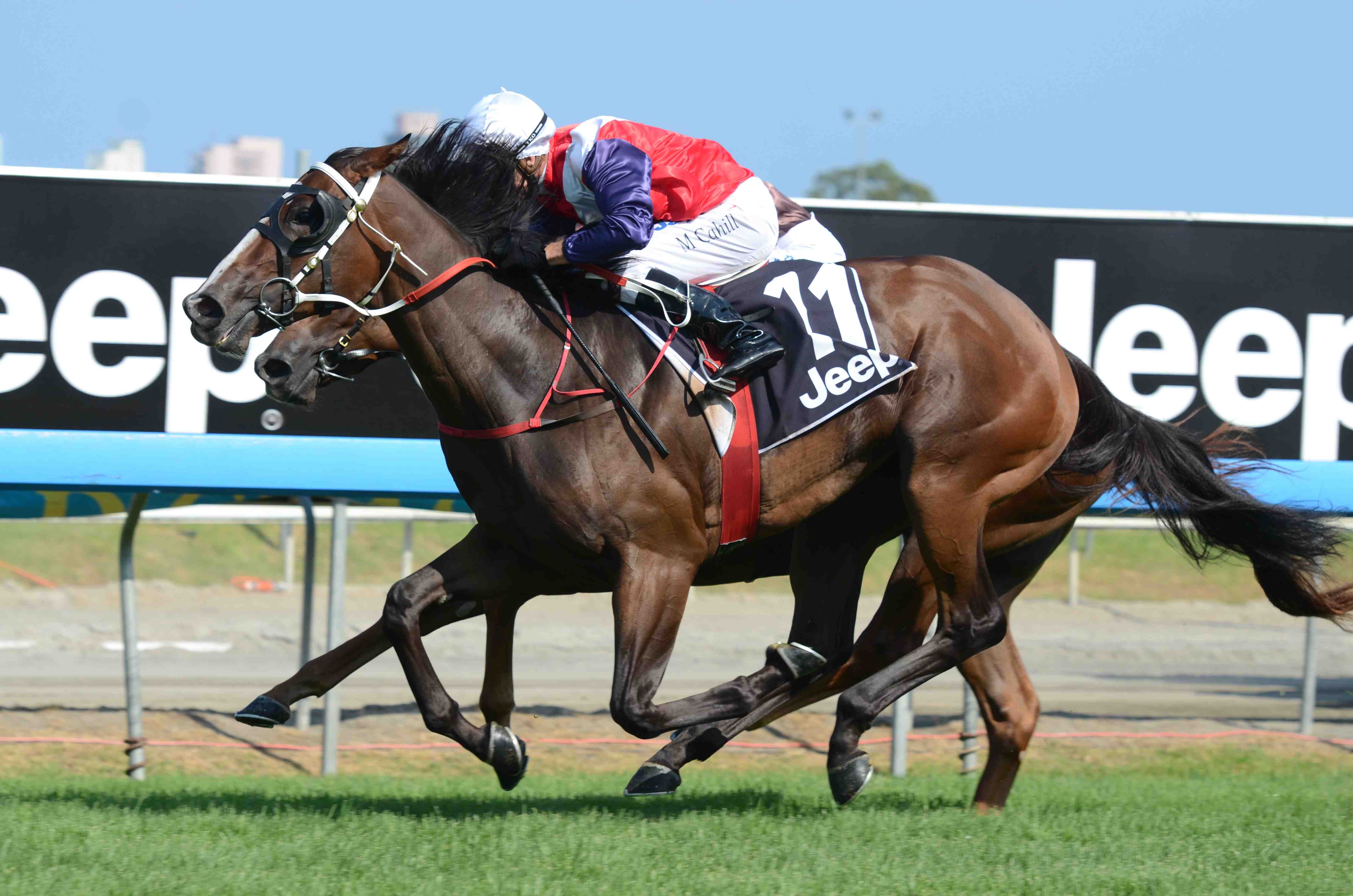 MM 2YO Classic winner Real Surreal (pic: Steve Hart)
In an overly commercialised world where the synergy between branding and satisfaction is often blurred, some brands have no such smudge. Black ink. Bold Defined. This is why Cressfield, one of the leading mare nurseries in the Southern Hemisphere continues to sit atop the averages and continues to deliver on the racetrack. A case in point was last year's Magic Millions where their boutique draft was salivated over and ultimately snapped-up at a 100% clearance rate. And an average of $328,000.
The fireworks are sure to continue when Lot 51 struts centre stage. She's the filly by [say no more] Snitzel from Real Surreal. At a sale where many are searching for the winner of the 2YO Classic a year on, this girl must be on every discerning judge's short list. Here mum won the race! And it's such a precocious family. Benny's Buttons is a half-sister to the dam and Gr2 Todman winner Great Crusader is on the page.
Another filly with clout is sure to be Lot 796, by 2YO production machine Not A Single Doubt from Gr1 Stradbroke winner Mid Summer Music. With one to race for a winner, and a pedigree also boasting the quality of Gr1 winner Czaravich, not only does this spectacular chestnut filly have every chance when the gates open but also definite residual value.
Which brings us to Lot 130, the filly by top flight stallion All Too Hard from Show A Heart mare Shoboard. The obvious here is she a half-sister to dashing dual Listed winner Granny Red Shoes and 5-time winner Live To Dream. And this pedigree has depth; 2nd dam Ten Eighty is a sister to NZ Gr1-winning sprinter Star Satire (dam of Gr2 Silver Slipper winner Satin Shoes (dam of Listed Gimcrack winner Satin Slipper). Starting to sound like a Cinderella story already.
Lot 919 is also by All Too Hard. He's from 13-time winner and dual stakes winner Black 'N' Tough. Seemingly well named. It's a nice Tasmanian / WA family tracing to names like Ableson (Listed winner), Nice Balance and Sir Wiggle.
Deep Field could not really have made a better start to his career as a sire. With 2 winers from his first 5 runners already, including the stakes-placed Wyong Magic Millions colt Spaceboy, he looks a strong chance of going some way to emulating the astonishing sire deeds of his dad Northern Meteor.
Cressfield have 2 by him in their draft. Lot 531 is from Gr2 Silver Slipper winner Headwater's half-sister Dove Lake. This is a prolific Contract Racing family. names rolling off the page include Listed winner Ride The Rapids (3rd dam), Gr1 winning daughter River Dove, Gr3 winner Kulgrinda, Gr2 Magic Night winner Willow Creek, Gr2 winner First Command and Gr2 winner Oneworld. Plus a host of others.
The second Deep Field is also tempting. Lot 691 is the filly from Isibaeva, an 11-time winner who scaled as high as the Gr3 Bow Mistress; 2nd dam Draggle was equally talented winning the Listed Thoroughbred Breeders' Classic. Down the page you'll also find Gr2 Frank packer Plate winner Stargazer and Gr2 Queen of the Turf winner Sorrento.
The quality rolls on with Lot 519, by Press Statement, Seabrook and Whispering Brook's sire Hinchinbrook from Zabeel mare Dezign. It's a simple rule. Zabeel mare. Multiply your chances of success by about 3. Dezign also happens to be a half-sister to Gr3 winner / Gr1 runner-up Star Fashion, a daughter of Champion, $6 million dollar plus-winning mare Elegant Fashion. And the dam has already produced the athletic multiple stakes-placed galloper The Chairman.
Few would argue the credentials of trainer Gerald Ryan when it comes to astute bloodstock selection and last year he showed this discernment in selecting the Foxwedge filly from Galapagos Girl for $425,000. This year there are certain to be many good judges checking out lot 609. She's by the son of Exceed and Excel in Headwater from Galapagos Girl. Families don't get too much better than this. Galapagos Girl's half-sister is Procrastinate, dam of Champion South African Sprinter Laisserfaire and Gr3 winer A Time For Julia. The page also includes Foreplay, Personify, Time Thief, Kampaign, Blake and top Gr1 winning filly Lone Rock.
Ditto Lot 1052. The filly by Lucky Hussler's sire Husson from Redoute's Choice mare Personification. Same Procrastinate family. Same Procrastinate class.
And stay in the ring for the next Lot and last in the Cressfield Magic Millions draft. By 10 x SW producer Foxwedge from Storm Cat mare Pfeiffer. The colt features a nice sex balanced duplication of Champion Sire Storm Cat and is bedded in pure quality. Flame of Tara, Salsabil, Matju, Danse Royale, Flame of Athens, Song of Tara, Second Empire, Balestrini, Northern Spur...
| Lot | Col | Sex | Sire | Dam | Vendor |
| --- | --- | --- | --- | --- | --- |
| 51 | B | F | Snitzel (AUS) | Real Surreal (AUS) | Cressfield Scone NSW |
| 519 | B | C | Hinchinbrook (AUS) | Dezign (AUS) | Cressfield Scone NSW |
| 531 | B | C | Deep Field (AUS) | Dove Lake (AUS) | Cressfield Scone NSW |
| 609 | C | F | Headwater (AUS) | Galapagos Girl (AUS) | Cressfield Scone NSW |
| 691 | B | F | Deep Field (AUS) | Isibaeva (AUS) | Cressfield Scone NSW |
| 796 | C | F | Not a Single Doubt (AUS) | Mid Summer Music (AUS) | Cressfield Scone NSW |
| 919 | B | C | All Too Hard (AUS) | Black 'n' Tough (AUS) | Cressfield Scone NSW |
| 1052 | B | F | Husson (ARG) | Personification (AUS) | Cressfield Scone NSW |
| 1053 | Br | C | Foxwedge (AUS) | Pfeiffer (USA) | Cressfield Scone NSW |