Boom Sires Defying Convention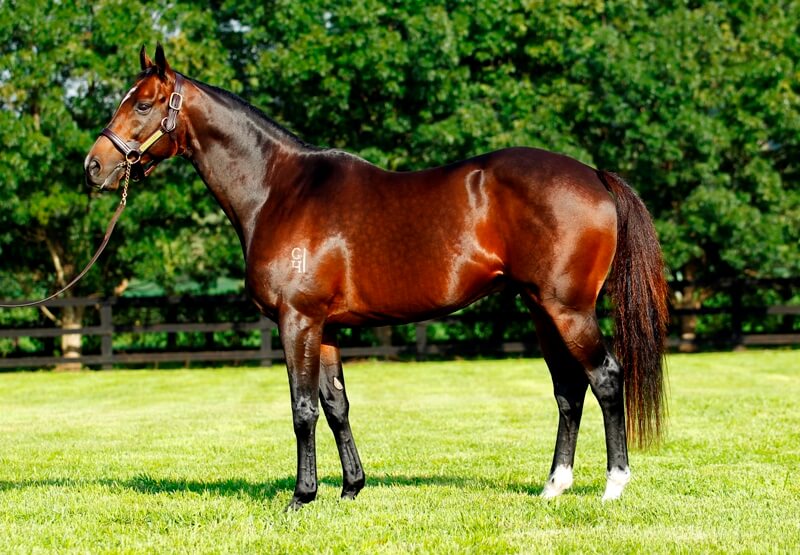 Casino Prince is one of 13 Gr1-producing sires standing for under $7,000
Many of the young boom stallions in Australia of late have come through unexpected pathways – being either cheap yearlings, non-Gr1 winners, or priced at the lower end of the market in their first few seasons, writes Renée Geelen.
Stallions like these demonstrate the need to keep the middle and lower end of the marketplace strong. In fact, three of the six stallions priced over $100,000 this season are non-Gr1 winners – I Am Invincible, Not a Single Doubt, and Written Tycoon, and all of them in high demand. Written Tycoon is a great story for small breeders, as he first stood at $8,250 and was reduced as low as $6,600 before his first runners hit the track, while I Am Invincible and Not a Single Doubt were also both readily accessible at a modest initial fee.
Danehill continues to dominate the stallion pool, with the most sire sons and grandsons, which is a reflection of the Australian Champion Sires Table and the yearling marketplace. Among the 404 stallions announced to date for 2019, thirty (30) are by Redoute's Choice (Danehill) and nineteen are by Redoute's Choice's son Snitzel. Fastnet Rock (Danehill) also has 19 sons on offer this season, while Danehill himself has fourteen sons available. Rounding out the top ten most popular sire of sires are recently deceased Encosta de Lago (12), Exceed and Excel (12), Red Ransom (11), Lonhro (11), More than Ready (10), and Flying Spur (10).
In 2019, there are twenty-six freshman sires already announced, ranging from Triple Crown winner Justify (no price announced yet), and boom Gr1 winners Trapeze Artist ($88,000) and The Autumn Sun ($77,000), to many more affordable options. Those breeders without big cash to splash around will have been following the stories of recent young stallions Better than Ready (stood his first season at $9,900 – three stakes winners in first crop), Spirit of Boom (stood his first season at $11,000 and was an instant hit with his star first crop), and Sidestep (who stood last year for $7,700 and is sire of this year's Golden Slipper winner Kiamichi).
For breeders hunting for a bargain, there are thirteen stallions priced under $7,000 who have already left a Gr1 winner – Ad Valorem, Bon Hoffa, Bradbury's Luck, Casino Prince, Dane Shadow, Ilovethiscity, King Cugat, Mosayter, Oamaru Force, Red Dazzler, Stryker, Top Echelon, and Wanted.
And yet, despite another booming sales season and a strong top end to the market, the overall Australian breeding industry continues to truncate with the biggest falls coming at the lower end of the stallion market. Since 2007, the number of active stallions in Australia has fallen from 776 to only 404 in 2019, however, the active stallions with a fee over $5,000 has remained static during that time period at an average of 220 horses, thus demonstrating stability in the commercial ranks.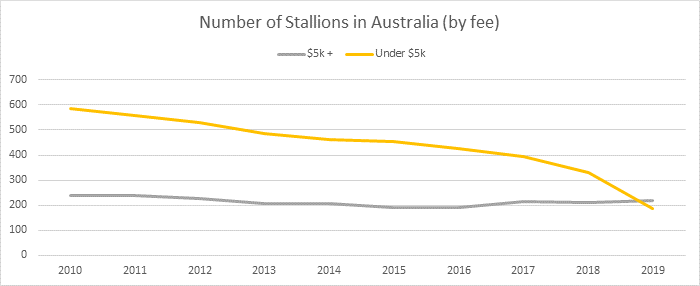 During the same time period, the Australian foal crop has fallen from 16,500 to 13,000, while the average foals per sire has stayed static at 21 (live foals divided by active stallions in previous season). Even for those at the top of the industry, these figures must look disheartening. No longer can we use statements like 'culling out the bottom end is improving the breed overall'. We must look carefully at the financial viability of the whole marketplace to ensure we have enough horses to fill fields going forwards.
Although the stallion market might be shrinking at the lower end, the commercial end of the market has remained static. There are opportunities for breeders everywhere to find the next big horse, or to stick with the tried and true.