Arrowfield Stud
Arrowfield Stud Overview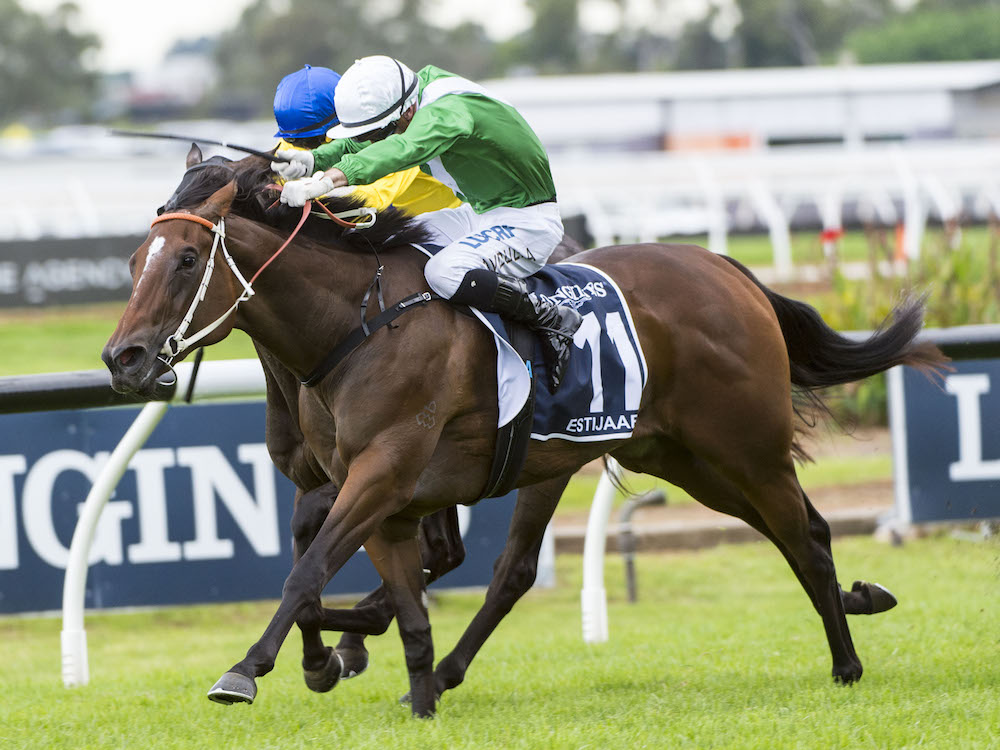 Gr1 Golden Slipper winner Estijaab (pic: Bronwen Healey)
Arrowfield goes into the 2019 Magic Millions Gold Coast Sale with a superlative three-decade record of 59 Group 1-winning sale graduates, 11 of them in the past four years, including three in 2018: sensational 3YO colt The Autumn Sun, Champion 2YO & Golden Slipper winner Estijaab and Spring Champion S. G1 winner Maid Of Heaven.
Magic Millions buyers regularly strike gold in the Arrowfield barns, with recent finds including Group 1 winners Invader, Secret Agenda & Sweet Idea, and Group winners Showtime, Scarlet Rain, Dracarys and Honesty Prevails.
Four key factors drive the quality of Arrowfield's 64-lot 2019 Magic Millions consignment:
* Unparalleled access to reigning Champion Sire Snitzel, leading sire Not A Single Doubt and the legend himself, Redoute's Choice.
* Investment in and serious support for outstanding young stallions from alternative international sire-lines, including Dundeel, Olympic Glory, Real Impact & Scissor Kick.
* An exceptional broodmare band, constantly refreshed and upgraded by substantial investment and strategic partnerships.
* The first-class skill, effort and care of Team Arrowfield from conception through to the selection & preparation of yearlings for sale.
Bloodstock Manager Jon Freyer's short-list highlights both likely star lots and under-the-radar horses worthy of buyers' attention:
Lot 20 – Snitzel-Politeness colt: "The first foal of a top-drawer racemare, he's an outstanding 2YO type, powerful and well-balanced with a tremendous walk."
Lot 63 – Snitzel-Response filly: "A full sister to Champion 2YO Estijaab, she is a stylish, elegant filly, full of quality."
Lot 231 – Real Impact-Timeless Choice colt: "A lovely, loose-walking colt from a full sister to Horse of the Year Lankan Rupee, he's athletic and strong, with scope for further development."
Lot 266 – Lord Kanaloa-Vasilissa colt: "A very well-made, handsome, correct colt, he's the first foal out of a daughter of European Group winner and Guineas-placed Penkenna Princess."
Lot 295 – Olympic Glory-Wingstack colt: "He ticks all the boxes as a Magic Millions type, a big, strong, quality colt, he's a readymade racehorse from the family of brilliant 2YO and Group 1 sire Charge Forward."
Lot 337 – Real Impact-Aliyana Tilde filly: "A well-balanced, scopey daughter of a Group 3-winning Snitzel mare, also placed three times at Group 1 level. She has the walk of a Classic filly. Her half-brother Table Mountain has recently joined the John Size stable in Hong Kong."
Lot 447 – Redoute's Choice-Champagne Run filly: "From a daughter of the brilliant Bollinger, herself out of Champion 2YO Bint Marscay, this is a powerfully built, precocious filly from a More Than Ready mare that has already left a Group-placed 2YO winner."
Lot 535 – Dundeel-Dual Star colt: "An outstanding result from this mating, he's a colt with big Magic Millions appeal, and plenty of strength and balance about him."
Lot 553 – Scissor Kick-Esprit Hi colt: "From the family of wonderful sire Invincible Spirit, this guy was our standout Scissor Kick from day one – he fills the eye with size, scope and strength."
Lot 635 – Deep Impact-Grito colt: "Buyers curious to see what a Deep Impact colt looks like will not be disappointed by this fellow out of a Redoute's Choice mare from the family of Group 1 winners Yell, Anthems & Holler."
Lot 853 – Not A Single Doubt-Negotiate filly: "A magnificent filly, she's the full sister to Group 1-winning sprinter Secret Agenda from the great Denise's Joy family, and she has all the power and presence you'd expect to see with that pedigree."
| Lot | Col | Sex | Sire | Dam | Vendor |
| --- | --- | --- | --- | --- | --- |
| 4 | B | C | Dundeel (NZ) | Passiflora (USA) | Arrowfield Stud Scone NSW |
| 20 | B | C | Snitzel (AUS) | Politeness (AUS) | Arrowfield Stud Scone NSW |
| 37 | B | C | Smart Missile (AUS) | Pyrography (AUS) | Arrowfield Stud Scone NSW |
| 49 | B | C | Written Tycoon (AUS) | Rationality (AUS) | Arrowfield Stud Scone NSW |
| 62 | B | F | Scissor Kick (AUS) | Remerged (AUS) | Arrowfield Stud Scone NSW |
| 63 | C | F | Snitzel (AUS) | Response (AUS) | Arrowfield Stud Scone NSW |
| 64 | B | F | Real Impact (JPN) | Ribe (AUS) | Arrowfield Stud Scone NSW |
| 87 | B | F | Redoute's Choice (AUS) | Sacred Witness (AUS) | Arrowfield Stud Scone NSW |
| 89 | B | F | Dundeel (NZ) | Salutations (AUS) | Arrowfield Stud Scone NSW |
| 171 | B | C | Real Impact (JPN) | Sport Chic (AUS) | Arrowfield Stud Scone NSW |
| 195 | B | C | Scissor Kick (AUS) | Sussuro (AUS) | Arrowfield Stud Scone NSW |
| 231 | B | C | Real Impact (JPN) | Timeless Choice (AUS) | Arrowfield Stud Scone NSW |
| 265 | B | F | Olympic Glory (IRE) | Varsity Blues (AUS) | Arrowfield Stud Scone NSW |
| 266 | B | C | Lord Kanaloa (JPN) | Vasilissa (JPN) | Arrowfield Stud Scone NSW |
| 276 | B | C | Dundeel (NZ) | Vocalise (AUS) | Arrowfield Stud Scone NSW |
| 282 | B | C | Nicconi (AUS) | Watchme (AUS) | Arrowfield Stud Scone NSW |
| 295 | B | C | Olympic Glory (IRE) | Wingstack (AUS) | Arrowfield Stud Scone NSW |
| 303 | B | F | Not a Single Doubt (AUS) | Zarakiysha (IRE) | Arrowfield Stud Scone NSW |
| 325 | B | F | Sebring (AUS) | Adviso (USA) | Arrowfield Stud Scone NSW |
| 331 | B | F | Exceed and Excel (AUS) | Albanilla (GB) | Arrowfield Stud Scone NSW |
| 337 | B | F | Real Impact (JPN) | Aliyana Tilde (AUS) | Arrowfield Stud Scone NSW |
| 339 | B | C | Olympic Glory (IRE) | Allariza (IRE) | Arrowfield Stud Scone NSW |
| 352 | Br | F | Redoute's Choice (AUS) | Angel of Mercy (AUS) | Arrowfield Stud Scone NSW |
| 361 | B | F | Real Impact (JPN) | Any Other Day (AUS) | Arrowfield Stud Scone NSW |
| 372 | C | F | Olympic Glory (IRE) | Aurora's Star (AUS) | Arrowfield Stud Scone NSW |
| 386 | B | C | Dundeel (NZ) | Battle Queen (AUS) | Arrowfield Stud Scone NSW |
| 429 | G | C | Redoute's Choice (AUS) | Butters (USA) | Arrowfield Stud Scone NSW |
| 443 | C | F | Real Impact (JPN) | Cat by the Tale (USA) | Arrowfield Stud Scone NSW |
| 447 | B | F | Redoute's Choice (AUS) | Champagne Run (USA) | Arrowfield Stud Scone NSW |
| 535 | B | C | Dundeel (NZ) | Dual Star (AUS) | Arrowfield Stud Scone NSW |
| 553 | B | C | Scissor Kick (AUS) | Esprit Hi (AUS) | Arrowfield Stud Scone NSW |
| 626 | C | F | Olympic Glory (IRE) | Good Weekend (AUS) | Arrowfield Stud Scone NSW |
| 635 | B | C | Deep Impact (JPN) | Grito (AUS) | Arrowfield Stud Scone NSW |
| 658 | B | F | Not a Single Doubt (AUS) | Hollow Bullet (AUS) | Arrowfield Stud Scone NSW |
| 677 | B | C | Dundeel (NZ) | In the Clear (AUS) | Arrowfield Stud Scone NSW |
| 681 | B | C | Snitzel (AUS) | Indarra (NZ) | Arrowfield Stud Scone NSW |
| 712 | C | C | Spill the Beans (AUS) | Khameela (AUS) | Arrowfield Stud Scone NSW |
| 758 | B | F | Real Impact (JPN) | Love is Fickle (AUS) | Arrowfield Stud Scone NSW |
| 765 | C | C | Not a Single Doubt (AUS) | Madame Andree (AUS) | Arrowfield Stud Scone NSW |
| 778 | B | C | Scissor Kick (AUS) | Mai Gluck (GB) | Arrowfield Stud Scone NSW |
| 780 | B | F | Redoute's Choice (AUS) | Malala (JPN) | Arrowfield Stud Scone NSW |
| 785 | B | F | Not a Single Doubt (AUS) | Mandistana (FR) | Arrowfield Stud Scone NSW |
| 817 | C | C | Snitzel (AUS) | Miss Match (ARG) | Arrowfield Stud Scone NSW |
| 829 | G | C | Real Impact (JPN) | Moonlight Hussey (AUS) | Arrowfield Stud Scone NSW |
| 839 | B | F | Redoute's Choice (AUS) | Mount Zero (AUS) | Arrowfield Stud Scone NSW |
| 850 | B | C | Redoute's Choice (AUS) | National Colour (SAF) | Arrowfield Stud Scone NSW |
| 853 | B | F | Not a Single Doubt (AUS) | Negotiate (AUS) | Arrowfield Stud Scone NSW |
| 863 | C | F | Snitzel (AUS) | Nocturnelle (AUS) | Arrowfield Stud Scone NSW |
| 865 | B | C | Olympic Glory (IRE) | North Flower (AUS) | Arrowfield Stud Scone NSW |
| 872 | B | F | Not a Single Doubt (AUS) | Ofcourseican (AUS) | Arrowfield Stud Scone NSW |
| 879 | B | C | Dundeel (NZ) | Opportunity (NZ) | Arrowfield Stud Scone NSW |
| 892 | B | C | Wandjina (AUS) | Zippity Lass (AUS) | Arrowfield Stud Scone NSW |
| 898 | B | F | Real Impact (JPN) | Al Samoud (AUS) | Arrowfield Stud Scone NSW |
| 899 | B | C | Olympic Glory (IRE) | Alexandra Rose (SAF) | Arrowfield Stud Scone NSW |
| 900 | B | F | Real Impact (JPN) | Alexandrova (AUS) | Arrowfield Stud Scone NSW |
| 940 | B | F | Scissor Kick (AUS) | Class Success (AUS) | Arrowfield Stud Scone NSW |
| 957 | B | C | Dundeel (NZ) | Elegant Attire (AUS) | Arrowfield Stud Scone NSW |
| 965 | B | C | Panzer Division (AUS) | Fernande (AUS) | Arrowfield Stud Scone NSW |
| 975 | B | C | Real Impact (JPN) | Forest City Girl (USA) | Arrowfield Stud Scone NSW |
| 978 | B | C | Panzer Division (AUS) | Frenchs Forest (AUS) | Arrowfield Stud Scone NSW |
| 985 | B | C | Real Impact (JPN) | Gold Mission (AUS) | Arrowfield Stud Scone NSW |
| 1015 | C | C | Real Impact (JPN) | Kirovskaya (AUS) | Arrowfield Stud Scone NSW |
| 1054 | B | F | Scissor Kick (AUS) | Phaedra (AUS) | Arrowfield Stud Scone NSW |
| 1083 | B | C | Scissor Kick (AUS) | Serenade Lily (NZ) | Arrowfield Stud Scone NSW |