Bhima Thoroughbreds
Bhima Thoroughbreds Overview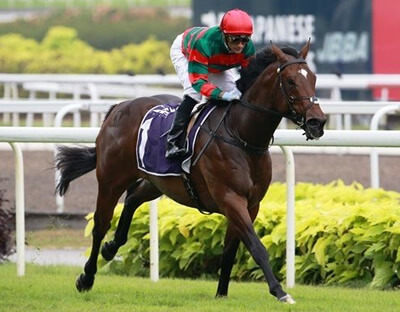 Bhima's Singapore star Super One
On the back of a great year at the sales and on the track, Bhima has plenty to look forward to as they approach the new year, including a stellar draft at the Inglis Classic in February.
A sale at which just a few years ago the stud was represented by a lovely I Am Invincible filly who went on to race as I Am A Star, the winner of ten races and over $1.5 million with a Group One in the Myer Classic, as well as eight other Group races on her resume.
Also sold by Bhima at the Classic was the tough two times Group winner Sircconi whilst other successful graduates for the stud include the Group One mare Heavens Above and the Group winners Super One and Kaepernick.
Bhima's Mike Fleming is justifiably proud of the draft being prepared for the 2019 Classic, a sale which kicks off early for the farm with two exciting types being sold early as part of the Gold Riband session on the Saturday night.
"There is always a good atmosphere at those night sales held after race meetings," he said. "It is a proven formula."
Bhima's Classic sale starts early with lot 6 being a dashing colt by the late Hinchinbrook, a horse Fleming has plenty of time for.
"Sadly Hinchinbrook is no long with us but he is a stallion who can do no wrong and this colt is a very good type, a forward, great moving type type with quality."
Hinchinbrook's dual Group One winning son Press Statement has his first yearlings going through the ring this season, including lot 127, a colt out of the multiple city winning Not A Single Doubt mare Arrowette, a half-sister to the dual stakes winner Jersey Lily.
Bhima take three of his daughters to the sale, the first of which is lot 139, a brown filly out of the Storm Cat mare Balance of Nature. Another filly line-bred to the influential Best In Show (her fifth dam), she is a 3/4 sister to the Group Three winner Global Balance.
The progeny of champion stallion Snitzel are always crowd pleasers at the sales and lot 102 is bound to have plenty of fans being a sister to the promising two-year-old brother Special Date, a $500,000 yearling and recent trial winner.
"A lovely, strong filly with a lot of quality and great movement," she is out of the Bernardini mare Racing Nadine, a half-sister to the dual Group One winner He's No Pie Eater. She is another one for pedigree buffs hailing from the same branch of the prolific Best In Show as the big race winners Redoute's Choice (her grandsire), Hurricane Sky, Umatilla, Al Maher, Manhattan Rain, Platinum Scissors and Shoals.
Things are looking good for Australian Horse Of The Year Dissident who has two colts being sold by Bhima at Classic. Lot 637 is out of the city placed Falbrav mare Ravissant, a half-sister to the Phar Lap Stakes-Gr.2, 1500m winner Hattori Hanzo.
Lot 652 is a bay colt out of the Danehill mare Reggae. Already dam of the Group Two placed Unique Quality, she is an imported sister to the dual Group One winner Spartacus and the Group winners Johan Cruyff and Meteor Shower. "A Neat short coupled colt with a good walk, good head," said Fleming.
The speedy Deep Field is another young stallion to have made an encouraging start and his Bhima colt, lot 184, is the first foal for the multiple city winner Cast In Stone. Bred on the same Northern Meteor/Redoute's Choice cross as Zoustar, Fleming describes him as a "very strong forward first foal out of the mare which is a fantastic result. Good bone, strong short cannon colt. Great attitude and good outlook."
Dual Group One winning sprinter Brazen Beau is also off and running with debut crop stakes winner Accession and the stakes placed First Dawn amongst his first group of runners. Lot 371 is his son out of the Nicconi mare Hipster Girl. His Grandam is a winning half-sister to the Group Two mare Velasco, dam of the stakes winners Deballatio and Devoirs.
Last to mention but by no means least is a colt by the superb stallion More Than Ready who recently departed Australian shores for the final time. This neat, athletic fellow out of the Danehill mare Darsini is a brother to the dual Group Three winner Mahisara.
| Lot | Col | Sex | Sire | Dam | Vendor |
| --- | --- | --- | --- | --- | --- |
| 6 | B. or Br. | C | Hinchinbrook | Waytoohigh | Bhima Thoroughbreds, Scone |
| 7 | B. | F | Foxwedge | Well Hidden (USA) | Bhima Thoroughbreds, Scone |
| 97 | Br. | C | Epaulette | More Glory | Bhima Thoroughbreds, Scone |
| 102 | B. or Br. | F | Snitzel | Racing Nadine | Bhima Thoroughbreds, Scone |
| 127 | B. | C | Press Statement | Arrowette | Bhima Thoroughbreds, Scone |
| 139 | Br. | F | Scissor Kick | Balance of Nature (USA) | Bhima Thoroughbreds, Scone |
| 184 | B. | C | Deep Field | Cast in Stone | Bhima Thoroughbreds, Scone |
| 220 | B. | C | Ocean Park (NZ) | Cong'er (NZ) | Bhima Thoroughbreds, Scone |
| 240 | Br. | C | More Than Ready (USA) | Darsini | Bhima Thoroughbreds, Scone |
| 351 | B. | C | Headwater | Gopana | Bhima Thoroughbreds, Scone |
| 371 | Br. or Blk. | C | Brazen Beau | Hipster Girl | Bhima Thoroughbreds, Scone |
| 504 | B. | C | All Too Hard | Mihiri | Bhima Thoroughbreds, Scone |
| 521 | B. | F | Scissor Kick | Miss Mushu | Bhima Thoroughbreds, Scone |
| 538 | B. | C | Headwater | Mortal Sin | Bhima Thoroughbreds, Scone |
| 555 | B. | F | All Too Hard | Nakataan (NZ) | Bhima Thoroughbreds, Scone |
| 601 | B. | F | Scissor Kick | Placement (NZ) | Bhima Thoroughbreds, Scone |
| 637 | Br. | C | Dissident | Ravissant | Bhima Thoroughbreds, Scone |
| 652 | B. | C | Dissident | Reggae (IRE) | Bhima Thoroughbreds, Scone |
| 659 | B. | F | All Too Hard | Rock of Fortune | Bhima Thoroughbreds, Scone |