Bhima Thoroughbreds
Bhima Thoroughbreds Overview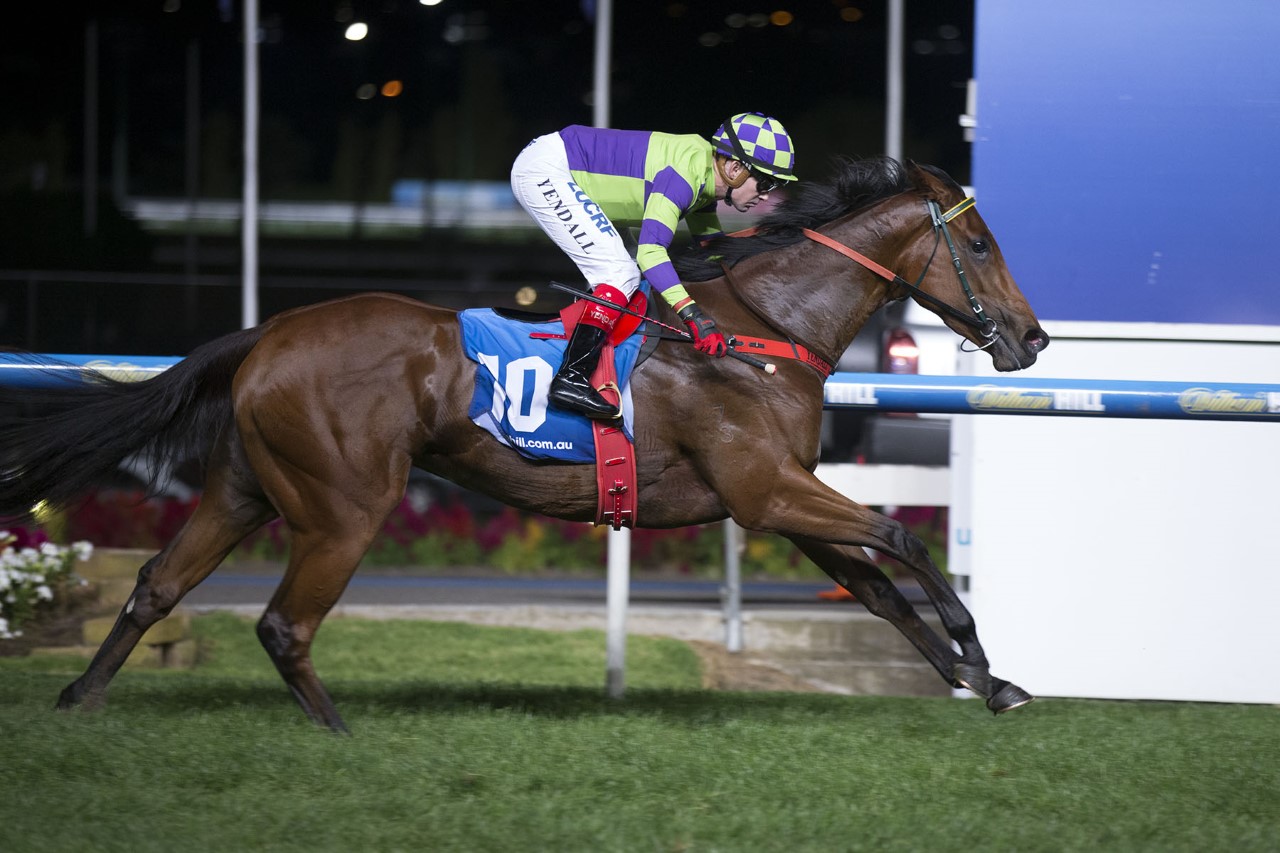 I Am A Star led the way for Bhima (pic: Mark Gatt)
If this season is anything like 2017/18, it will be another banner season on the track and in the ring for Bhima Thoroughbreds.
On the track Bhima graduates have been excelling. Super Too continued adding to her speedy performances, breaking 1000m records at Moonee Valley & Randwick. Tough sprinter Kaepernick finally earned a well-deserved Group victory in the Group 3 Southern Cross. While Sircconi put another Group win to his name when taking out the Group 3 Moonga Stakes this spring.
However, the top Bhima graduate continues to be the aptly named I Am A Star, who took home the Group 2 Stocks Stakes in 2017 and 2018 in addition to her G1 Myer Stakes victory.
Yet, as enjoyable as it is to look back at previous successes, Bhima has its focus firmly on the future.
"Bhima is dedicated to growing our brand as an independent consigner and we already have a great track record of selling top racehorses," said Mike Fleming. "This year, we will be focusing on ways to make the buying process more straightforward and transparent. We believe trust in the Bhima brand is important, and the way to grow trust is to continue selling top horses, produced by excellent breeders, through a sales process that values integrity above all else."
With that in mind, Bhima is sending another top-notch group of yearlings to the Gold Coast in January.
One of those offerings is a Redoute's Choice colt who lives up to his dam's name – Purely Spectacular. Fleming thinks the colt will appeal to buyers looking for an early type.
"The Purely Spectacular colt is bred by Jonathan Munz's GSA Bloodstock," said Fleming. "He has an excellent attitude and handles everything we throw at him. He is a forward, good looking horse and looks the type that will be ready to go when the first 2-year-old races start next season."
Another offering is a colt that has already made headlines as a weanling sales topper. Purchased in partnership with Kia Ora, the Fastnet Rock colt out of Benalmadena was a $300,000 purchase at the Great Southern Sale, and has only improved with age.
"This colt has enormous presence and carries himself well," said Fleming. "By one of the best proven sires in Australia, he is a strong medium-sized son of Fastnet Rock with a great head. "When I first saw him as a weanling I thought he was a real throw back to Danehill. He looks like he'll be an early horse with natural strength and muscle."
Not to be outdone by the colts, Bhima also has what looks like an exciting group of fillies, with the filly from Be Inspired a standout. Bred and owned by James Champan's Jamieson Park in New Zealand, Fleming has declared the filly will turn heads every time she leaves the stall.
"She is a very forward mature filly, unfortunately by a sire that is no longer with us. She is a quality filly and has good size and strength. If her presence doesn't catch your attention, watching her move should. She's simply a good filly, very uncomplicated. These are usually the ones that make good racehorses," he said.
The final early prep standout is the Fastnet Rock daughter of El Laoob. A stakes winner herself, the American-bred El Laoob is the dam of two stakes-winners. The mare has also been a hit in the sales ring already with her 2006 Group 3 winning daughter Pachattack selling for US$1.2 million.
Adding to this filly's appeal is also that she comes from the proven Raffles Racing breeding program.
"This filly has a great outlook on life, she has a very laid back attitude that most good horses have," Fleming said. "She is a mature, forward filly with great presence and great action from a proven international family. With the success lately of progeny out of U.S.-bred mares, it won't be hard for people to look at her twice."
With a proven track record of selling top racehorses and commitment to a transparent sales process, trust in the Bhima brand will hit a new score with buyers and breeders alike.
| Lot | Col | Sex | Sire | Dam | Vendor |
| --- | --- | --- | --- | --- | --- |
| 34 | B | C | Redoute's Choice (AUS) | Purely Spectacular (NZ) | Bhima Thoroughbreds Scone NSW |
| 52 | Br | C | Sebring (AUS) | Rebound (AUS) | Bhima Thoroughbreds Scone NSW |
| 56 | B | C | Savabeel (AUS) | Refreshing (AUS) | Bhima Thoroughbreds Scone NSW |
| 59 | B | F | Scissor Kick (AUS) | Regally Blonde (AUS) | Bhima Thoroughbreds Scone NSW |
| 61 | Br | F | So You Think (NZ) | Rekindled Glory (AUS) | Bhima Thoroughbreds Scone NSW |
| 148 | C | C | Snitzel (AUS) | Snow Spell (GB) | Bhima Thoroughbreds Scone NSW |
| 226 | B | C | I Am Invincible (AUS) | Thirty Rock (AUS) | Bhima Thoroughbreds Scone NSW |
| 243 | C | F | Snitzel (AUS) | Tripled (AUS) | Bhima Thoroughbreds Scone NSW |
| 267 | B | F | Showcasing (GB) | Venus Bay (NZ) | Bhima Thoroughbreds Scone NSW |
| 283 | Br | C | Savabeel (AUS) | Wave Rider (AUS) | Bhima Thoroughbreds Scone NSW |
| 314 | B | C | Exosphere (AUS) | Absolute Faith (AUS) | Bhima Thoroughbreds Scone NSW |
| 329 | B | C | Scissor Kick (AUS) | Ailuros (NZ) | Bhima Thoroughbreds Scone NSW |
| 389 | B | F | Hinchinbrook (AUS) | Be Inspired (AUS) | Bhima Thoroughbreds Scone NSW |
| 400 | B | C | Fastnet Rock (AUS) | Benalmadena (FR) | Bhima Thoroughbreds Scone NSW |
| 418 | B | C | Brazen Beau (AUS) | Breccia (NZ) | Bhima Thoroughbreds Scone NSW |
| 481 | Br | C | So You Think (NZ) | Crillon (NZ) | Bhima Thoroughbreds Scone NSW |
| 495 | B | F | Deep Field (AUS) | Dance Card (AUS) | Bhima Thoroughbreds Scone NSW |
| 506 | G | F | Scissor Kick (AUS) | De Groove (AUS) | Bhima Thoroughbreds Scone NSW |
| 541 | B | F | Fastnet Rock (AUS) | El Laoob (USA) | Bhima Thoroughbreds Scone NSW |
| 542 | B | F | Savabeel (AUS) | El Sagrado (GB) | Bhima Thoroughbreds Scone NSW |
| 549 | Br | F | Brazen Beau (AUS) | Emanday (AUS) | Bhima Thoroughbreds Scone NSW |
| 702 | B | C | I Am Invincible (AUS) | Judged (AUS) | Bhima Thoroughbreds Scone NSW |
| 704 | B | F | All Too Hard (AUS) | Juliet's Princess (USA) | Bhima Thoroughbreds Scone NSW |
| 783 | Br | C | Pierro (AUS) | Mama's Choice (AUS) | Bhima Thoroughbreds Scone NSW |
| 874 | B | F | Snitzel (AUS) | Omana (AUS) | Bhima Thoroughbreds Scone NSW |