Female Stud Masters Take The Reins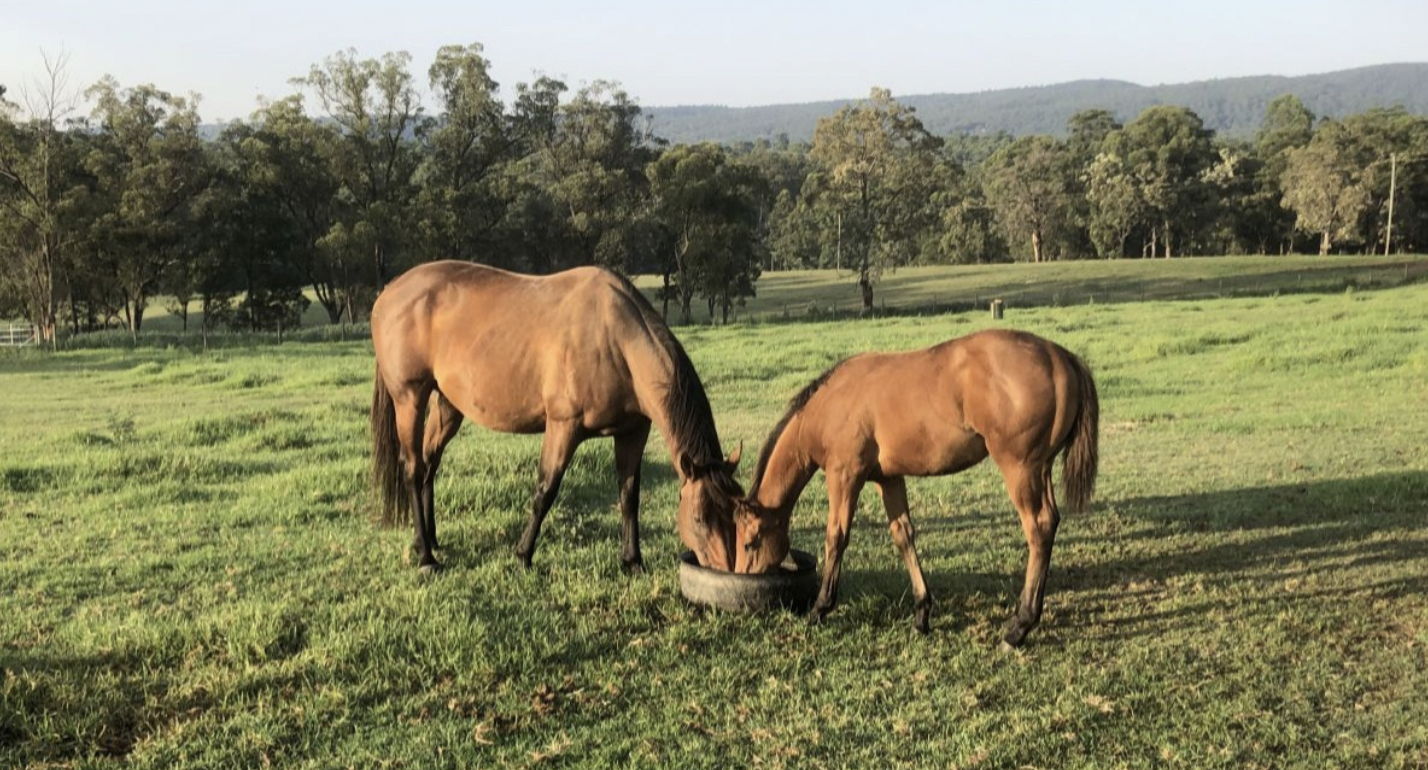 Fairview Park is run by Linda Duckworth and her sister
In contrast to the male-dominated days of the past, a growing female presence is making its mark in an increasingly diverse thoroughbred breeding landscape. Across Australasia, many talented women are at the helm of successful and respected breeding operations.
Ahead of the Easter Yearling Sale, Inglis sought the insights of some of the leading lights among this emerging force of female stud masters – Linda Duckworth (Fairview Park), Kayley Johnson (Rushton Park), Catriona Murphy (Sledmere Stud) and Kandice Pritchard (KBL Thoroughbreds).
"The stud master role has been dominated by males, but I think that's changing," Duckworth said. "A lot of women have important roles in the industry now, either alongside family members or in their own right. It's evolving all the time."
Murphy is proud of the role her family has played in that evolution. "There are many, many capable women out there in this industry, and they're starting to get the opportunities they deserve," she said. "My great aunt Ann Raymond was a huge believer that women were just as capable as men, and she actually employed exclusively women when she ran this farm. She was adamant that women could perform all of the roles that were traditionally done by men.
"Times are definitely changing, and I'd like to think my great aunt played a big part in driving that change and providing those opportunities."
Johnson believes this emergence is more an increase in recognition than in participation.
"I think in the past we have had a lot of females behind the scenes running the show, but not necessarily as the front of businesses," she said. "I guess it's a natural progression, as roles are becoming more universal both in looking after a family and in the business side of things, to see more and more women at the forefront.
"I think there are as many good opportunities for females as there are males in the industry, but I think as women, who often go off and have children, we sometimes lack the time to dedicate fully to our careers. I think that factor, rather than a lack of opportunity, is why the industry has appeared to be male-dominated."
HORSES IN THE BLOOD
A common theme throughout all of the quartet was a rich family heritage around horses.
"My mum and dad ran the property, and taking it over was always a natural progression," Duckworth said. "My sister (Heather McKinnon) and I run the farm together, and we were born and bred into it. We've been here all our lives. It wouldn't suit everybody, but it's something that we've committed to as our lifestyle and we wouldn't change it."
Murphy told a similar story of following family footsteps.
"I was fortunate that my family had been involved in this industry for many generations," Murphy said. "My mother's father was a trainer and had a property at St Albans in Victoria, and my father's side was heavily involved as well.
"So it's something that was always going to happen for me, particularly with my great aunt Ann and her time owning this property. I was very lucky that I was able to follow in her footsteps and continue that family tradition."
Johnson and Pritchard also had horses in their blood.
"My parents had horses, so I got the bug from an early age," Johnson said. "I learned to ride when I was about eight and showed saddle horses throughout my teens and into early adulthood.
"When I met my husband, he was keen on racing, and it wasn't long before he decided to take out a trainer's licence – so out went the show horses, and in came the racehorses! My love of racing developed from there, and it was only natural that we progressed into breeding as a few of our fillies retired off the track.
"The passion for breeding really begun to take over, so we decided that we needed a much bigger farm and that we should head across from our hometown of Perth to the heart of thoroughbred breeding country in Victoria and have a serious crack at it."
"A love of horses has been in me forever," Pritchard said. "I was probably 18 when I started in thoroughbreds, riding trackwork and then later going on to do stud management at Fig Tree Thoroughbreds."
KEYS TO SUCCESS
Passion for the industry and a strong work ethic have played a key role in all of these women's success stories.
"It's all about hard work, long hours and dedication," Pritchard continued.
"When you start out, you end up doing a lot of hours for not a lot in return, but later on you start to get rewarded for it."
Johnson agreed.
"One thing you need to be in this industry is resilient and driven if you want to achieve your goals," Johnson said. "It's a lot of hard work, both physically and mentally, so having the tenacity to keep going when the chips are down, along with really good attention to detail, is important if you want to be successful at it.
"There may be a few people, who know me well, that would describe that trait in me as stubbornness, but I'm going to say it's pure tenacity!
"My advice to people starting in this industry would be to take the opportunity as early as you can to experience as many different facets of the industry as possible. The opportunities are endless, from travelling overseas to work at studs internationally, to working with small and large farms all around Australia.
"They say knowledge is power and to me that means paying attention, learning as much as you can and being able apply those skills to a high standard if you want to run a successful horse-based business. It's much more challenging than it looks."
"If you've got the determination, commitment and passion for the industry, I don't think it matters whether you're a man or a woman," Murphy said.
"It's not really a job for me – it's a lifestyle. My husband (Royston Murphy) and I make an amazing team, and we've got a great support team around us as well. When you've got that, and the passion and the commitment, you can achieve a lot, no matter what your dreams and aspirations may be."
"Hard work is such an important part of it – it's really a seven-day-a-week job," Duckworth said. "But when you really love this industry, you don't really think of it as a job. We're fortunate to have a great property and a terrific team of staff that have been here for a long time."
MAKING SPECIAL MEMORIES
These stud masters' distinguished careers have produced a number of special highlights.
"My most special memory is from just before my great aunt Ann passed away," Murphy said. "We went and bought the dam of Easter graduate Politeness.
"Ann was always very particular about the horses she wanted, and this one wasn't on her list. She always had a thing for grey mares, and that was what she was hoping to find. We told her we couldn't find any greys that suited her criteria, but that we found this other mare who ticked a lot of boxes.
"By this stage, Ann was quite restricted in her movement. When the mare arrived at the farm, she went out with her walking frame, and the mare came right up to her and put her head in her chest. Ann said it was one of the most special moments of her life.
"Obviously Politeness went on to have a fantastic career. She kept knocking on the door in big races and was often the bridesmaid. Ann always used to say, 'That mare is just too polite!' But then, very soon after my great aunt passed away, Politeness got her Group One win in the Myer Classic. That's a really special memory.
"Easter graduate Dame Giselle has been another real highlight for us – it's been really special to follow her progress, from conception right through to the amazing things she's done on the racetrack.
"We also had an amazing Inglis Easter Yearling Sale this year, topping the sale with a $1.8 million yearling. That was a dream come true as well."
For Duckworth, one of the pinnacles came with Easter graduate Mossfun's victory in the 2014 Golden Slipper – and the subsequent sale of her half-brother for $750,000 at the Inglis Australian Easter Yearling Sale.
"There's always highs and lows in this industry," she said. "You ride it out, take the good times with the bad times and hope that the good outweigh the bad. You can never take anything for granted when you're working with animals.
"But Mossfun was very special and definitely among the highlights of my career. The half-brother was a Magic Albert colt who I was originally going to enter for the Inglis Classic Sale, but a couple of our clients also had Magic Albert colts heading towards that sale, so I decided to keep him at home and save him for the Easter Sale.
"That turned out to be a blessing. If we'd sold him at the Classic Sale before Mossfun won the Slipper, we wouldn't have got anything like the price that we got for him at the Easter Sale. It was all timing. All of the stars and the moon aligned and shone together for us."
The last couple of years have delivered several special moments for Pritchard.
"We sold our first million-dollar horse last year, which blew us away after only two years under the KBL name," she said. "We've also had a few great pinhooks. We bought a mare (Sky Rubi) in foal for $11,000 at the Great Southern Sale, and then sold that yearling at the Classic Sale this year for $340,000.
"We also had a Brazen Beau filly that we bought for $50,000 and sold for $220,000 (at Classic), and another pinhook that we bought for $70,000 and turned into $270,000. We've had a lot of luck over the last couple of years, which has been hugely exciting."