Washpool Lodge (QLD)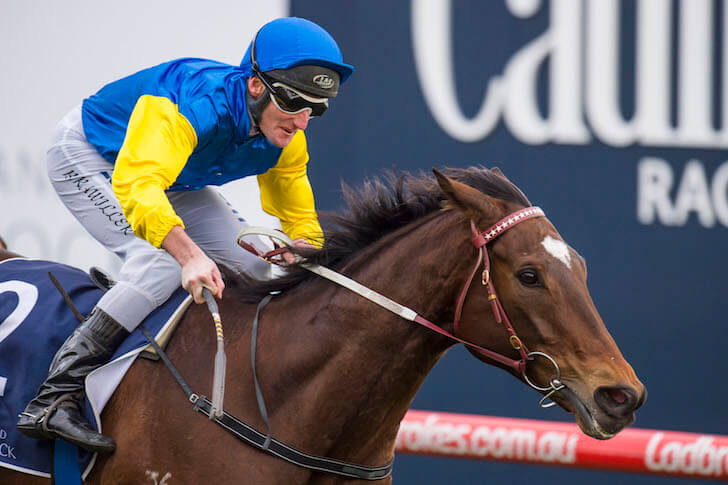 Black Hart Bart spent time at Washpool Lodge (pic: Mark Gatt)
Washpool Lodge is a magnificent 480-acre property in Aratula, an hour's drive from Brisbane, surrounded by the Moogerah Peaks National Park and the Main Rain National Park. Established in 1991, the property consists of river flats and undulating hills with high quality fencing and pasture management. Washpool Lodge offers a long list of services to all horse disciplines, focusing on breaking-in, pre-training, breeze up sale preparation and agistment.
The only property in Australia to sell a Melbourne Cup winner (Shocking) at a breeze up sale for 2YOs, Washpool Lodge's dedication to the Thoroughbred industry is extensive. Every horse at Washpool Lodge is treated as an individual, and all of them receive top quality care with their staff taking pride in their work. Washpool Lodge is used and recommended by many of the leading Thoroughbred bloodstock agents in the industry, a reflection of their quality horsemanship and customer care.
The property is split into 80 individual agistment stables with quarter acre paddocks, as well as twenty larger five-acre paddocks for shared agistment. Washpool Lodge has an aqua walker, a treadmill, an eight horse walking machine, and a four horse walking machine, 100 stables, and a 1000m sand training track. The property is designed with breaking in, pre-training, and breeze up sale preparation at the forefront of their services to clients.
Their aqua walker was installed after a significant level of consultation with Australia's leading veterinarians, and this allow Washpool Lodge to offer the full range of rehabilitation to injured racehorses. Hydrotherapy has several physiological benefits to horses, including increased cardiovascular fitness, increased muscle strength and tone with a lower risk of weight bearing injury. The aqua walker has a specialised rubber flooring to give the horses a non-slip walking surface.
Washpool Lodge also offer exporting services to clients. Described by the owners as 'truly horse heaven on earth', Washpool Lodge welcome new clients to inspect the property. With horses like Black Caviar, Buffering, Black Hart Bart, Real Love, and Hopfgarten entrusted to their care for agistment and pre-training, owners know their own Thoroughbred stars will be treated with their best interests at heart.