Bombora Downs (VIC)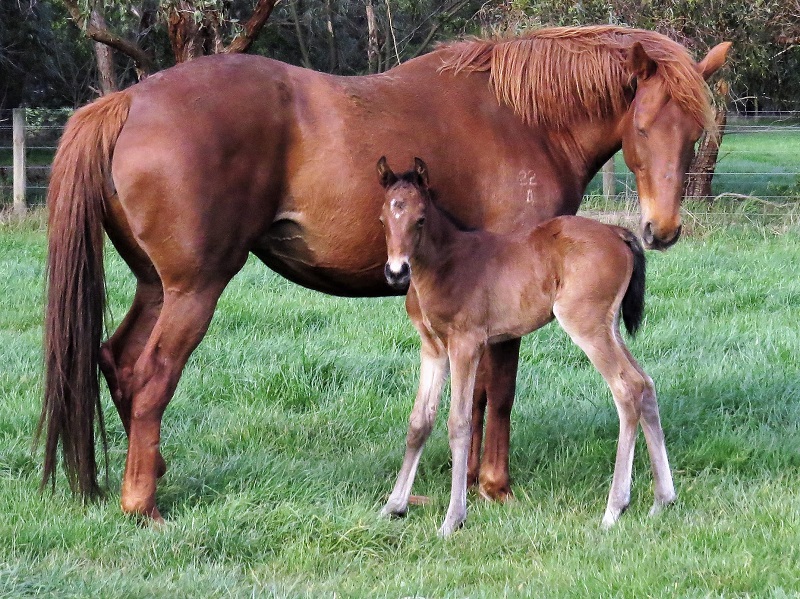 Lago Rhythm with her 2018 Jungle Ruler filly
Built, owned and run by Christoph Bruechert, Bombora Downs Thoroughbreds is situated on Victoria's Mornington Peninsula, an easy hour's drive south of Melbourne. Not only is its location especially convenient for the farm's Melbourne owners, the peninsula boasts some of Victoria's most fertile soils and most reliable rainfall. Capitalising on these natural advantages the farm is for the most part run on biodynamic principals and, after 16 years of this system, the pastures are extraordinarily productive – and it shows in the horses that live here.
Bombora offers a full range of services to horse owners from conception to the racetrack. They have all your needs covered, annually foaling in the order of 110 mares plus each season, half of which come in just to foal. Weaning, sales prep, spelling and, of course, agistment are services provided by the farm. In addition to their own stallions – Dandino (GB), Jungle Ruler, Warhorse (NZ) and De Gaulle, a walk-on service to all Victorian stallions is available to both resident and local breeders. Christoph notes that the call for this service has grown considerably in recent years, prompting the purchase of a purpose-built 4 horse gooseneck that can be seen at least 3 days a week during stud season on the road to stallion farms in the north of the state. Also providing transport to and from Bombora.
Offering a full complement of services delivered with a high level of care requires dedicated staff working with purpose and pride. At Bombora Downs that begins at foaling, with night watch staff spending time with newborns, laying the foundations in a foal that will spend most of its life interacting with people. Christoph is justifiably proud of his team and what they've built over the last 16 years, capitalising on the natural advantages of the region with its amazing pastures, practical facilities, and dedicated staff, all combining what has developed into a wonderful nursery for young horses.
The first point of call for most clients will be the Bombora Downs office. We are happy to help not only organise stallion and agistment bookings but also transport, stud book returns, breaking in recommendations, etc. Most aspects of looking after your horse are covered.
At Bombora Downs' idyllic setting, a balanced nutritional program and good horsemanship ensures all horses are given every opportunity to fulfil their potential.